Service
Product
About Us
Giant Smart Engineering Co., Ltd. has been growing outstandingly since its inception in 1996. The company has regularly scheduled exchanged foreign trainers to Taiwan or worldwide to train our engineers. In 2000, for the improvement of service quality, Giant Smart established a repairing facility in Daxi, Taoyuan. Through the transfer of foreign technologies, Giant Smart now not only sell the products but also do service by our own.
Since 2005, Giant Smart stuffs had already built an amazing business with multi-national certification as qualify agent and strong technical support, numbers of certified liences, as well as excellent foreign language skills…Giant Smart Engineering Co., Ltd is the one and only company in Taiwan will provide you the best choice of hydraulic solutions.
SERVICE TEAM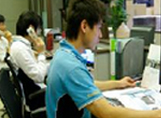 Giant Smart Engineering Co., Ltd. engineers and staff all have years of experience in mechanical the engineering field. Each engineer has multiple qualifications from international known certificates and in-field experience. Our sales department are capabile in both Chinese and English.